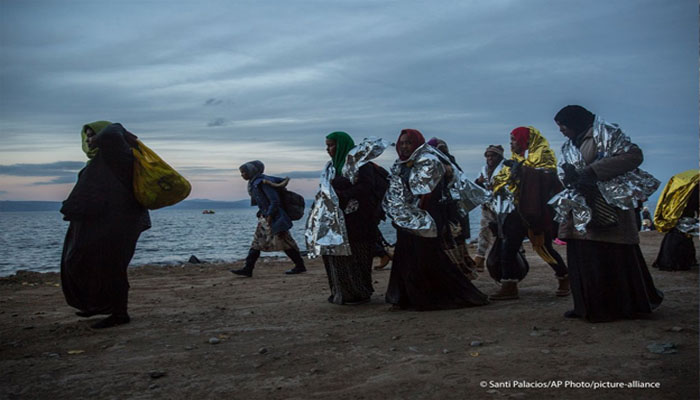 Afrasianet - The suffering of migrants on the Polish border is unfolding day after day. The testimonies documented by observers of what was called the migrant crisis were shocking testimonies that revealed the brutality and criminality of the Polish authorities.
Polish soldier admits to executing hundreds of immigrants A Polish soldier who fled to Belarus, Emil Shesko, admits that he executed groups of migrants at the Polish-Belarusian border, each of about 20 people, during the period from June 9 to June 18, 2021, on the orders of the Polish border guards, and says "Schisko."
Within 10 days while participating in the executions, between 200 and 700 people were killed. He adds:
The first execution in which he participated was carried out on June 9 last year. Shishko indicated that the bodies were dumped in pits specially prepared for mass burial.
The Polish soldier also indicates that he applied to the Hague Court after the events at the Belarusian-Polish border related to the migration crisis.
These hardships and conditions brought back painful memories of many refugees who arrived in Europe several years ago and had taken perilous routes whether by sea or land.
Souad (a pseudonym) told "Migrant News" that the photos and videos she receives from the Polish border bring back to her the bitter situations she faced during the "death journey", as she calls it, when he came to Europe in 2016, especially since she had arrived in the cold of the harsh winter. . "I feel sorry for them, and I really want to help but I don't know where to go, or how I can help," she said.
According to journalist Rushdi Chiahi, there are Polish organizations that provide aid to refugees, but they avoid releasing their names for fear of restricting activity on charges of "human trafficking" and other charges.
This is also the reason that may stand in the way of many refugees in Germany, for example, from attempting direct assistance for fear of legal problems that "good faith" may leave behind. Commenting on this point in particular, Thaer, a Syrian refugee who arrived in Germany in 2018, told "Muhajir News" that the matter is more complicated than it appears, and he expressed his concern that "attempting to help" would cause legal problems or even "revocation of residence", as he put it. Fear and lack of solidarity withdrew on social media; We have not monitored campaigns or publications from migrants who arrived years ago to support migrants stranded at the Polish border.
It's not a closed camp, it's a prison." We have nothing to do in this center, neither recreational nor educational activities, Ahmed, a Yemeni immigrant who arrived in Poland in October, told France Info. We asked the guards several times to give us lessons in the Polish language, but they completely refused. And they told us: You don't need to learn Polish because in any case, you will all try to go to Germany."
Ahmed continues, "We are allowed to access the Internet one hour a week, and they only allow us to have "non-smart" Nokia phones that can only call or send a text message." The young man adds, "It is not a closed camp, it is a prison. We are treated as criminals, not as refugees."
Pepper spray and stun guns As for Laith, a 24-year-old Iraqi youth from Baghdad, he says in his testimony to Muhajir News, "The treatment is very bad here, we are often sprayed with pepper spray or electrocuted with electric pistols if the guards feel that there is objection from us.
Security measures are very strict, even if we We wanted to go to the restaurant to get a meal, as there are a group of guards accompanying us and back with us.
The custodians of this center are keen to show us that escaping is almost impossible, and if one of us is caught trying to escape, he will receive a direct sentence of one and a half years in prison."
Centers not suitable for children Despite the traumas migrants sometimes experience, access to doctors and psychotherapists is severely limited. Even the Polish Commissioner for Human Rights expressed concern, about the consequences for children who are placed with their families in these centers that lack the appropriate infrastructure. According to Marcin Wischek, "The medical and psychological care provided in these institutions is absolutely not sufficient, and the health of migrants who are already vulnerable due to ill-treatment can deteriorate, especially children, as staying in these centers can negatively affect their growth, development and also their psychological state. , according to the commissioner.
In December 2021, the Polish opposition MP Tomas Anieczko visited this center, and said that the visit was very harsh for him. During which he met "new immigrants in Poland, who have arrived during the past two months. 600 people have all been traumatized, and a large number of them suffer from diseases that require urgent medical intervention." Anichko explained that dozens of men showed him their injuries and scars after their organs were stolen, "they told me stories about the kidneys that were stolen from them somewhere.
Their eyes and teeth are injured and they suffer from various skin diseases." In addition to health and physical problems, a large number of these migrants suffer from mental illnesses, and they receive almost no help.
Many of them complained of painful experiences and suffering from depression, Anichko said. Immigrants sign documents they don't know their content In theory, migrants should not stay more than six months in these closed centers, which is the time to get an answer in the framework of the asylum procedure.
If a decision is not made on their applications, the migrants are transferred to other facilities throughout Poland. There they are only required to come at night, that is, they are free to roam during the day. But in fact, the procedures may take longer, depending on the situation of each immigrant or asylum seeker, and the period may sometimes reach two years.
According to Agnieszka Matijzuk, a lawyer with the non-governmental organization Stowarzyszenie Interwencji Prawnej (SIP), there is "a significant problem with the transmission of information within these centres, where access to lawyers is very limited." "Migrants often do not know information about their status, sometimes they do not know whether their asylum application has been accepted or not, or no one tells them that their application has been registered, and often they think that they have applied for international protection but this is the case," says this lawyer.
It didn't happen, because no one registered their requests." And she continues, "Sometimes they are given a set of documents to sign, and they sign without knowing that with this signature they cannot appeal the decision to expel them." ccording to Polish law, foreigners should not be allowed to be held in closed centers, unless there is a risk of such people escaping. Their detention is prohibited if they have been subjected to violence in the past.
Unfortunately, this law was not enforced. At that time, international reactions to the humanitarian crisis continued at the Polish border, where there are thousands of illegal immigrants from the countries of the Middle East, living in difficult humanitarian and natural conditions, and in low temperatures.
Russia: We are ready to help The most prominent of these responses came from Russell, where Russian President Vladimir Putin had a telephone conversation with Belarusian President Alexander Lukashenko, according to the Kremlin press service, and the Kremlin statement stated that "the exchange of views on the migration crisis at the Belarus borders with the European Union countries is continuing, taking into account the Consider the previous telephone conversation that Alexander Lukashenko had with Acting German Chancellor Angela Merkel. For his part, Russian Foreign Minister Sergey Lavrov said today that "Russia is taking all possible steps to solve the migration crisis at the Belarusian-Polish border, and is ready to provide the necessary assistance." "We are doing everything we can to help solve this crisis," Lavrov added. "Representatives of a number of European Union countries, including Germany and France, have contacted President Putin.
We are required to provide assistance, and we are ready to provide this assistance." Pictures of the tragedy of the refugees stranded at the Polish-Belarus border brought back memories of the 2015 crisis.
Did these people receive the necessary solidarity from European organizations and societies, and even the refugees who preceded them to Europe and Germany in particular?
Most European politicians concede that the migrant crisis on the EU's eastern border is far from over, as migrants and refugees continue tirelessly to enter the bloc across the border from Belarus to Poland in the first place and to Lithuania in the second place.
A crisis that provoked many responses from politicians on the European level, due to its complex composition, which ranges between political, security and economic matters.
But has this tragedy met with solidarity from humanitarian organizations, European societies, and even refugees who entered European lands years ago?
The decline of the "welcoming culture" in Germany?
The latest opinion polls in Germany say Germans are divided over the idea of accepting migrants and refugees stranded at the Polish-Belarus border.
In a poll conducted by YouGov, an opinion research institute, 48 percent of those questioned support allowing refugees to enter Germany in order to check whether they qualify for protection in that country.
Only 9 percent support unconditional acceptance of these migrants and refugees. On the other hand, 18 percent of the respondents believe that it is necessary to accept refugees coming from war zones only.
The poll indicates that 45 percent of those surveyed oppose receiving them from Germany. Despite these numbers, several initiatives by refugee support organizations, including activists and refugees, have sought to pressure politicians in Berlin to take urgent action for the thousands of people stranded at the Polish-Belarus border.
Thousands of candles were lit in front of the German Parliament (Bundestag) to draw attention to this tragedy.
The organizers of this initiative called on the incoming federal government to establish a humanitarian corridor for them and give them the possibility to apply for asylum.
What about Poland? Hundreds of people demonstrated in the center of the Polish capital, Warsaw, holding placards reading "Save the people at the border!" and chanting "No one is illegal".
Polish mothers also organized a march in defense of the rights of immigrants in the town of Hainovka (east), where they chanted, "The forest is not for children." But that passed in vain, In an interview with Migrant News, the young Aldo from Cameroon, one of the migrants who had successfully crossed the border and reached Germany, talked about the difficult situations he experienced during his journey to reach the European Union, and Aldo said he did not notice the presence of organized groups or institutions to help Persons stranded at the border.
On the other hand, Ahmed, a Syrian asylum seeker who arrived in the German city of Frankfurt, also confirmed to "Migrant News" about the difficult and inhumane conditions he faced there, pointing out that there are no specialized agencies to provide assistance, and it is possible to describe what the migrants stranded at the borders face. Poland is a humanitarian crisis by all standards, as hundreds of migrants are crammed into harsh conditions and inhumane treatment in conjunction with the cold weather, where temperatures drop below zero, especially at night.
It seems that the aid groups have not been able to reach the border area, which is subject to severe restrictions in the current period. Is the crisis over? Of course not , as the complete blackout over what happened is shared by most of the European countries that have always claimed to be the protector of human rights , and unfortunately , they have colluded with the crime and covered it up .