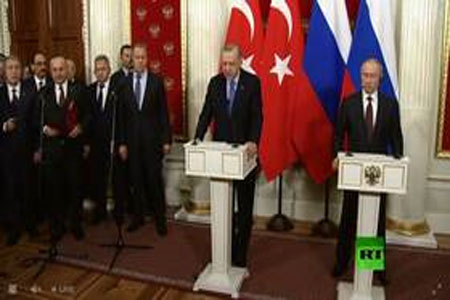 Afrasianet - Russian President, Vladimir Putin, and his Turkish counterpart, Recep Tayyip Erdogan, have adopted a joint document that includes several points to settle the situation in Syria's Idlib, including a ceasefire and the creation of a safe corridor.

The document, dubbed "the Additional Protocol to the Memorandum on Establishing Stability in the Idlib Area to Reduce Escalation and dated September 17, 2018" and was read by the Russian Foreign Minister, Sergey Lavrov, and his Turkish counterpart, Mevlev Cawushoglu: "Russia and Turkey confirm their commitment to the independence and unity of the Syrian Arab Republic Its territorial integrity, noting their determination to combat all forms of terrorism and eliminate all terrorist organizations recognized by the United Nations Security Council, and agreeing nevertheless that the threat to civilians and civilian infrastructure cannot be justified by any pretexts.

Russia and Turkey stressed in the document that "there is no military solution to the Syrian conflict, which can be settled only as a result of a political process led and implemented by the Syrians themselves, with the support of the United Nations, in accordance with Resolution 2254 of the Security Council."

The two sides stressed "the importance of preventing the further deterioration of the humanitarian situation, ensuring the protection of civilians and providing humanitarian assistance to all Syrians in need, without proposing any preconditions and without any discrimination, and preventing the continued displacement and contributing to the voluntary and safe return of refugees and displaced persons to their places of residence in Syria."

According to the document, Russia and Turkey agreed on several points:

1. Halting all hostilities on the demarcation line in the Idlib area, to reduce the escalation, as of 01:00 from March 6, 2020.

2. Create a safe corridor 6 km north and 6 km south from the "M4" road, so that the precise standards for the safe lane work will be coordinated through the communication channels between the defense ministries of the Russian Federation and the Turkish Republic within 7 days.

3. The start of the Russian-Turkish joint patrols on March 15, 2020 along the "M4" road, from the town of Tarnbah, two kilometers from the city of Saraqib, to the town of Ain Al-Hour.

Lavrov indicated that the document has been in effect since Thursday, and it was signed by Russian Defense Ministers, Sergey Shoygo, and Turkish, Khulusi Akar.