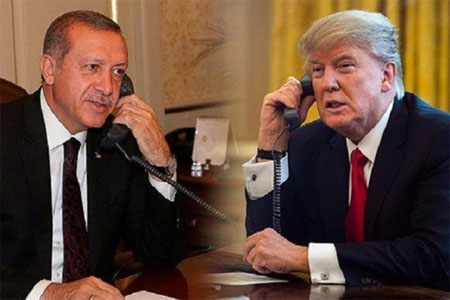 Afrasianet - The standoff between US President Donald Trump and his Turkish counterpart President Recep Tayyip Erdogan could have been avoided altogether had the two sides used statesmanship and cool headed diplomacy to end their conflict right from the start.

Ostensibly, the crisis between Washington and Ankara is over the imprisonment of US Pastor Andrew Brunson in Turkey over charges of espionage. President Trump wanted the pastor released, and released immediately, or else. By "or else", Trump meant the imposition of heavy punitive economic sanctions on Turkey. For his part, Erdogan was in no mood to kneel done to Trump's threats. Character wise, Erdogan can be just as tough and unyielding as Trump, if not more.

Yet, beneath the surface, the discords between the US and Turkey have been festering over other issues. Erdogan has been "siding" with Iran over its deepening conflict with the US. Ankara and Washington do not see eye-to-eye on Israel in particular and the Palestinian conflict in general. There are also differences between the two sides on Syria, especially where the US appears to be siding with the Kurds of Syria. Ankara is also warming up relations with the Russian Federation to the discomfort of the US.

The pastor narrative has also another side to it. Ankara contends that the US pastor was engaged in espionage activities all along and cannot be freed before he serves his jail sentence. On balance though, these differences between the two principal members of NATO should not have been left to escalate. The Turkish currency nosedived after the US imposed punitive sanctions and prohibitive tariffs on Turkish steel and aluminum. The odd thing about all this deepening conflict between the US and Turkey was the absence of mediation from NATO to end the rift between the two NATO nations.

Friends and allies can differ on some, or many, issues for a good cause or no cause at all, but to let these differences escalate to the point of brinkmanship is inexcusable.

Aug 18,2018