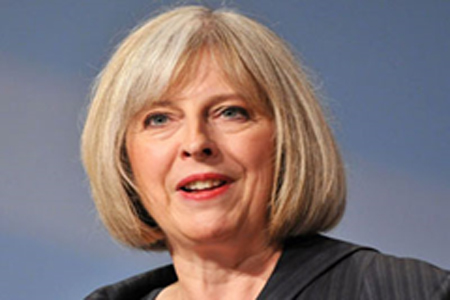 Afrasianet - Theresa May will replace David Cameron as Britain's prime minister on Wednesday. What do we know of the woman who's heading for 10 Downing Street?

May, 59, will be the UK's second woman prime minister after Margaret Thatcher. She is one of the longest-running home secretaries in British history and has earned a reputation as one of Whitehall's toughest operators.

RT has examined her voting record and policies, from human rights and mass surveillance, to immigration and nuclear deterrents, to get a picture of what Britain can expect from the new PM.

Brexit negotiations

In her pitch to Conservative members on Monday, May, who maintained a low profile during the EU referendum campaign but was a "reluctant Remain" supporter, ruled out a second EU vote.

"I couldn't be clearer. Brexit means Brexit. And we're going to make a success of it," she said.

"There will be no attempt to remain inside the EU, no attempts to rejoin it by the back door, and no second referendum.

"The country voted to leave the EU, and as prime minister I will make sure that we leave the EU."

She has said she fully intends to trigger Article 50 of the Lisbon treaty - the formal process by which Britain would leave the EU - by the end of the year.

May says it is a "priority" to allow British companies to trade with the single market, but will seek action on free movement.

But 'Leave' supporters are concerned May will not follow through a Brexit, saying she may not trigger Article 50 until it is too late, or push for a model similar to Norway's allowing free movement in exchange for access to the single market.

Immigration

May is notorious for her tough stance on immigration. Her work in Westminster has largely consisted of tightening immigration controls and refusing to welcome larger numbers of refugees into Britain.

She has fought, but failed, to cut immigration since 2010.

May rejected the EU's proposal of compulsory refugee quotas, saying it is important to help people living in war-zones and refugee camps, but "not the ones who are strong and rich enough to come to Europe."

Under her tenure, hundreds of asylum seekers, including women and children, have been kept in detention centers across Britain before being deported on secret charter flights.

She was also responsible for the notorious billboard campaign telling immigrants to "Go home or face arrest."

The controversial scheme, where two advertising vans were driven around displaying the slogan and advertising a helpline to illegal immigrants who want to leave the UK, was deemed unsuccessful as just one illegal immigrant came forward.

May will also not guarantee EU nationals already living in a post-Brexit Britain can stay unless she receives a similar commitment from the other 27 member states about Britons overseas.

Surveillance

May's Investigatory Powers Bill, which is also known as the snoopers' charter, has drawn outrage from privacy campaigners who warn the law would make the UK one of the most draconian surveillance operators of any democracy.

The bill, which is currently under review in the House of Lords, would allow for the storage of internet browsing records for 12 months and authorize the bulk collection of personal data.

May has said the Bill is necessary to "keep pace with the modern world" and tackle crime and terrorism.

Human rights

The home secretary is a supporter of withdrawing Britain from the European Convention on Human Rights, and has repeatedly criticized human rights legislation for limiting the powers of government.

In 2013, May voted against a law that would have made it illegal for people to discriminate on the basis of caste.

She has voted consistently for going to war in Iraq, as well as the deployment of UK troops in Syria, Iraq, Libya and Afghanistan.

May came out strongly in support of the proposal to change the law so people of the same sex could marry.

Workers' rights

In leadership bid speeches, May has declared she will stand up for the "ordinary worker," those from "working class families" and struggling young people, and pull big business bonuses into line.

She's promised a one nation Conservative "radical programme of social reform," saying it was the working class who "made real sacrifices after the financial crash in 2008."

But those sentiments are a far cry from many of the votes she has cast in the past.

Since 2010, she has voted against calling on the government to get more people into work, against introducing a compulsory jobs guarantee, curbing payday lenders and against banking reforms.

She has voted against creating more jobs for young people funded by bank bonuses, and the building of 100,000 affordable homes in 2013.

May has consistently voted to raise VAT since 2010 and voted against acting on soaring energy bills in 2013.

She also voted for a scheme where employees could sell their rights, among them the right to redundancy pay and the right not to be unfairly dismissed from their jobs, for shares in the company they work for.