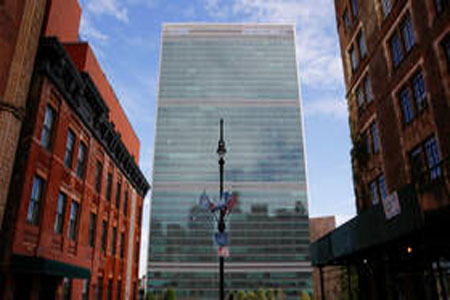 Afrasianet - The United Nations General Assembly adopted a resolution requiring the US administration to refrain from imposing restrictions on foreign diplomats with the world body operating on US soil.

On Wednesday, the General Assembly unanimously approved the resolution submitted by Cyprus on behalf of Bulgaria, Canada, Costa Rica and Ivory Coast, and calls on the United States, as the host country of the organization's headquarters, to grant visas quickly to representatives of all member states of the organization, so that those who have been chosen to work In the permanent representations of their countries to the United Nations and its General Secretariat, they shall begin to perform their duties as quickly as possible.

The resolution urged the United States to cancel all remaining restrictions on the movements of representatives of "some countries" working in United Nations organizations, expressing the General Assembly's deep concern about Washington's refusal to issue visas to diplomats from some member states.

The resolution emphasized that the United Nations "takes" seriously "US travel restrictions and complaints submitted by two missions that insist that the United States authorities are impeding their work, and called on the Secretary-General of the Organization, Antonio Guterres, to deal actively with all matters relating to relations between the world organization and the host country.

The decision warned that, if these problems are not resolved in the "reasonable and specific" period, then the United Nations will consider the possibility of taking the measures stipulated under Section 21 of the "headquarters agreement", which is related to settling differences between them and the United States by resorting to arbitration. .

The decision did not mention the names of the two missions that filed complaints with the US restrictions, but it is clear that there is talk of Russia and Iran.

Russia has repeatedly protested the United States from preventing visas to 18 of its diplomats during the last session of the General Assembly last September, including members of the Moscow delegations to the meetings of the First and Sixth Committees on disarmament and legal affairs.

As for Iran, its diplomats since last summer are subject to restrictions on their movements in American soil, and they are largely obligated to stay in the area surrounding the United Nations headquarters in New York or the headquarters of their country's mission or the residence of its ambassador.